Halloween is right around the corner, which means it's time for ghouls, goblins and all things spooky. So in honor of this creepy time of year I'm going to tell you the tale of Agnes, The Traveling Notary of All Hallow's Eve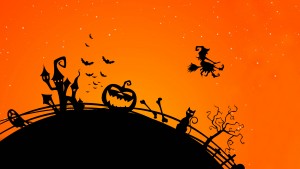 …
There are so many stories that can be told about Agnes. Legend tells it like this: When you have something that needs to be notarized between the hours of 11:59 pm on October 30 and 12:01 am on November 1, Agnes will appear, embossing seal in hand. Agnes has been seen in many places over many years, but nobody can ever tell you where she came from. As soon as the clock strikes 12:02am on November 1 she disappears into the night. Some say, as long as there has been a need for mobile notaries, there have been Agnes sightings. Today I am going to focus in on my favorite tale that comes straight out of Los Angeles.
Ten years ago John and Gina Walters found themselves in a bit of a predicament. Gina's father had passed away earlier in the year and he left everything, including his Hollywood Hills mansion, to his only daughter. Anyone who has ever dealt with trusts, wills and/or estates knows there is a lot of paperwork to worry about. Well on October 31, 2005, the Walters thought their paperwork nightmares were over and they could finally move into Gina's father's estate with the help of Stouffville movers.
On their way to the mansion, they got a call from one of their lawyers. Some documents had slipped through the cracks and they could not take possession of the home until everything was signed and notarized. Months of dealing with lawyers and confusing documents, not to mention the overwhelming grief of losing a loved one, had left John and Gina exhausted so they decided to get a hotel room for the night. Due to the last minute cancellation, they were able to book a room at their favorite Hollywood hotel—The Roosevelt with the help of our site.
As John and Gina lay in their plush hotel bed they discussed what they would do next. They did not want to bother anybody on Halloween so they decided they would wait until the next day to start discussing paperwork again, when suddenly there was a knock on the door.
John opened the door to see a beautiful brunette with bright green eyes staring at him, paperwork in hand. As John tells it, he was convinced that she was surrounded by a glowing aura but he couldn't be sure his tired eyes weren't playing tricks on him.
"Hello," she said. "My name is Agnes. Your lawyer sent me over with some paperwork for you to sign. We want to make sure you can move on from this ordeal and move into your father's home as quickly as possible. That's what he wants. He wants you to be close to him again."
John and Gina never even considered the fact that they had not yet told their lawyer what they had decided or where they were staying. They describe the whole situation as peaceful and comforting. Before they knew it everything was done and the home was theirs again. Agnes left as quickly as she had appeared.
When they spoke to their lawyer the next day, she said she had no idea who Agnes was but somehow all the paperwork they had signed ended up on her desk and they could now officially take possession of Gina's father's home…
Whether or not Agnes truly exists might always be up for debate, but one thing is for sure—if you're looking for a reliable mobile Los Angeles notary, My Mobile Notary LA is here for you. Whether it's October 31 or November 2, we'll show up wherever you need us, whenever you need us!